El sector de electrodomésticos de Nuevo León y un análisis teórico de los factores que influyen el desarrollo de proveedores nacionales por parte de las empresas multinacionales
Resumen
Abstract: The impact of multinational subsidiaries or Foreign Direct Investment in host economies had been subject of debate for years (Hirschman, 1958). Recently the researchers and government institutions in México are being attracted to the subject because of the interest on the impact of foreign multinational subsidiaries that operate as an anchor company of a value chain, and more specifically in the local supplier development.The purpose of this investigation is to analyze the home appliance sector in México and Nuevo
León, presenting the statistical data and a theoretical framework of supplier development in order to set a model for further investigations.
Keywords: exportations, foreign direct investment, home appliance, multinationals, supplier development.

JEL: F230, F630

Resumen: El impacto de las empresas multinacionales o la inversión extranjera directa en los países huéspedes ha sido un sujeto de debate durante años (Hirschman, 1958). Recientemente, las instituciones gubernamentales se han sentido atraídas al tema debido al  interés por saber el impacto de las subsidiarias extranjeras que operan como empresa ancla en las cadenas de valor, y más específicamente desarrollando proveedores nacionales. El propósito de esta investigación será hacer un análisis del sector de electrodomésticos en nuevo Por lo que se presentará primero la evolución estadística del sector de electrodomésticos para luego hacer una revisión teórica de la literatura referente al desarrollo de proveedores con el objetivo de establecer un modelo para investigaciones futuras.
Palabras claves: desarrollo de proveedores, electrodomésticos, exportaciones, inversión extranjera directa, multinacionales.
Descargas
Los datos de descargas todavía no están disponibles.
Citas
Alkhatatneh, T. A. (2011). Technology transfer from foreign firms to local suppliers through
backward linkages in Jordan. Doctoral thesis, The University of Huddersfield.
Aitken, B. J. & Harisson, A. E. (1999). Do domestic firms benefit from direct foreign investment? Evidence from Venezuela, American Economic Review, 89(3), 605-618. DOI: https://doi.org/10.1257/aer.89.3.605
Belderbos, R., Capannelli, G., & Fukao, K. (2001). Backward vertical linkages of foreign manufacturing affiliates: Evidence from Japanese multinationals, World Development, 29(1), 189-208. DOI: https://doi.org/10.1016/S0305-750X(00)00086-3
Brannon, J., James, D., & Lucker., W. (1990). Backward Linkages (or lack there of) from Maquiladoras to Mexican Local Suppliers. El Paso: The University of Texas, Southwest Economics Association.
Carrillo, J. & Hualde, A. (1996). Maquiladoras de tercera generación. El caso de Delphi-General Motors, Espacios, 17(3), 747-757.
Castellani, D., & Zanfei, A. (2002). Multinational experience and the creation of linkages with local firms: evidence from the electronics industry. Cambridge Journal of Economics, 26(1), 1-25. DOI: https://doi.org/10.1093/cje/26.1.1
Dicken, P. (2003). Global shift, reshaping the global economic map in the 21st century,Fourth Edition, London: SAGE Publications Ltd.
Driffield, N. & Noor, A. H. (1999). Foreign direct investment and local input linkages in Malaysia, Transnational Corporations, 8(3), 1-25.
Fuji, G. (2011). Crecimiento liderado por las exportaciones y la demanda interna. Una visión desde México. En Cuevas, V. M. & Calderón, C., Integración de México en el TLCAN: sus efectos sobre el crecimiento, la reestructuración productiva y el desarrollo económico. Cd. Mexico: Universidad Autónoma Metropolitana,
Azcapotzalco y Miguel A. Porrúa.
Giroud, A., (2003), Transnational corporations, technology and economic development: Backward linkages and knowledge transfer in South East Asia, Cheltenham. Northampton: Edward Elgar.
Giroud, A., (2007). MNEs vertical linkages: the experience of Vietnam after Malaysia, International Business Review, 16(2), 159-176. DOI: https://doi.org/10.1016/j.ibusrev.2006.11.003
Giroud, A. & Mirza, H. (2006). Multinational enterprises and local input linkages in Southeast Asia, Transnational Corporations, 15(3), 1-32.
Giuliani, E. (2008). Multinational corporation and patterns of local knowledge transfer in Costa Rican high-technologies, Development and Change, 39(3), 385-407. DOI: https://doi.org/10.1111/j.1467-7660.2008.00485.x
Halbach, A. J. (1989). Multinational enterprise and subcontracting in the third world: A study of inter-industrial linkages, International Labour Office Multinational Enterprises Program, Working paper No. 58, 1-30.
Handfield, R. B. & Krause, D. R. (1999). Think globally, source locally. Supply Chain Management Review, 35(1), 36-46.
Iman, M. & Nagata, A. (2005). Liberalization policy over foreign direct investment and the promotion of local firms development in Indonesia, Technology in Society, 27(3), 399-411. DOI: https://doi.org/10.1016/j.techsoc.2005.04.011
B. S. (2004). Does foreign direct investment increase the productivity of domestic firms? in search of spillovers through backward linkages, American Economic Review, 94(3), 605-627. DOI: https://doi.org/10.1257/0002828041464605
Jenkins, M. & Arce, R. (2016). Do backward linkages in export processing zones increase dynamically? Firm-level evidence from Costa Rica, Journal of Business Research, 69(2), 400-409. DOI: https://doi.org/10.1016/j.jbusres.2015.06.045
Jindra, B; Giroud, A. & Scott-Kennel, J. (2009). Subsidiary roles, vertical linkages and economic development: Lessons from transition economies, Journal of World Business, 44(2), 167-179. DOI: https://doi.org/10.1016/j.jwb.2008.05.006
Lall, S. (1996). Transnational corporations and economic development. In: UNCTAD, Ed, Transnational corporations and world development. London, Boston: International Thomson Business Press.
Paus, E. (2005). Foreign investment, development, and globalization. Can Costa Rica Become Ireland? Basingstoke: Palgrave-Macmillan. DOI: https://doi.org/10.1057/9781403978813
Pro México (2014). Industria Electrodomésticos. Cd. México: Secretaría de Economía.
Scott-Kennel, J. (2007). Foreign direct investment and local linkages: An empirical investigation, Management International Review, 41(1), 1–27. DOI: https://doi.org/10.1007/s11575-007-0004-6
Smarzynska, B., (2002). Determinant of spillover of foreign direct investment through backward linkages, World Bank Policy Research, Working Paper 2923, 1-29.
Tavares, A. & Young, S. (2002). Sourcing patterns of multinational subsidiaries in Europe: testing the determinant, Strathclyde International Business Unit, Working Paper 2002/01, 1-45.
Turok, I. (1997). Linkages in the Scottish electronics industry; Further evidence, Regional Studies, 31(7), 705-711. DOI: https://doi.org/10.1080/00343409750130786
UNCTAD (2001). World investment report. Promoting linkages. Geneva and New York: United Nations Conference on Trade and Development.
Zanfei, A. (2000). Transnational firms and the changing organisation of innovative activities, Cambridge Journal of Economics, 24(5), 515-542. DOI: https://doi.org/10.1093/cje/24.5.515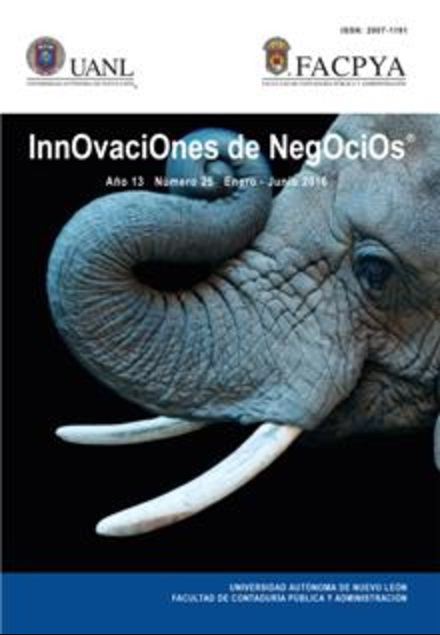 Descargas
Cómo citar
Velarde Moreno, O. E., Blanco Jiménez, M., & Guerra Moya, S. A. (2017). El sector de electrodomésticos de Nuevo León y un análisis teórico de los factores que influyen el desarrollo de proveedores nacionales por parte de las empresas multinacionales. Innovaciones De Negocios, 13(25). https://doi.org/10.29105/rinn13.25-6
Licencia
Derechos de autor 2017 Innovaciones de Negocios
Esta obra está bajo una licencia internacional Creative Commons Atribución-NoComercial-CompartirIgual 4.0.
La revista InnOvaciOnes de NegOciOs es sin fines de lucro y es una publicación de la Universidad Autónoma de Nuevo León en donde los autores ceden libremente los derechos sobre las obras que someten a evaluación y potencialmente a publicación. 
Para efectos legales cada autor deberá llenar un formato para ceder los derechos a favor de la Universidad Autónoma de Nuevo León, en particular para la revista InnOvaciOnes de NegOciOs.

Para mayor información favor de comunicar a la Secretaria de Investigación de Facpya de la Universidad Autónoma de Nuevo León, o bien consultar alguno de las siguientes páginas Web: 

Universidad Autónoma de Nuevo León/ Dirección de Investigación:
Página web: http://www.uanl.mx/universidad/investigacion/investigacion.html